Profile & Some Projects References
Re-Habilitation of National bank of Egypt Damanhur Branch.
Rush maintenance of National Bank of Egypt Victoria Branch.
Renovation of National Bank of Egypt ALMONTAZA Branch.
Plaza deck Waterproofing of QASR Elsalam Tower SMOUHA.
Re-roofing waterproofing of Central Bank of Egypt resort North Coast.
KATAMEYA Heights Villas.
PALM Hills Villas.
Landscapes, Gardens and Pathways
foundation water proofing
Heat & Acoustic Insulation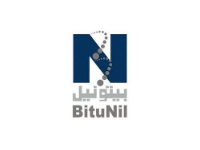 Nile Waterproofing Co. BITUNIL